My grandmother passed away yesterday.
She used to enjoy painting. At first with oils and later on with watercolors. When I was in high school, I remember spending an afternoon with her painting in her basement. I had never used watercolors so she taught me everything she knew and let me use all of her supplies. She was really proud of how well I did on my first try. That's my favorite memory of her.
She had to be put into a nursing home a few years ago because dementia had set in. She couldn't live alone and no one in our family was able to give her the constant care she required. Her house was sold and her belongings were packed up until an estate sale could be organised. At that time, the members of our family were able to take certain items of sentimental value. I asked to have a painting she had done of some leaves. I like the painting partly because it's simple and the color palette makes it feel old and delicate, and partly because it was important to her. She had painted it while taking a class and she was so proud of it because her instructor had been impressed by how well she captured the colors of the leaves. It's hanging in my dining room.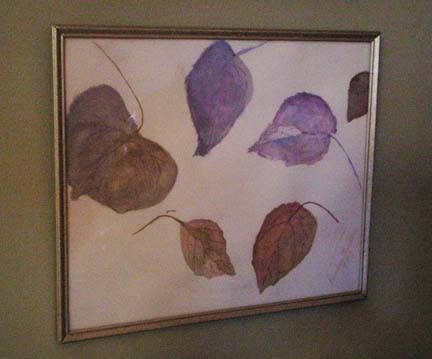 My aunts also split up her recipes and I got a stack of about 20 of them, all handwritten on various yellowed pieces of paper. I love that I have them - they just feel like such a personal memento. It was comforting to look through them this morning.