The presentation that I mentioned preparing for the other day took place this morning and I think it went well. As usual, I was over thinking it, and obsessing over my content, and worrying that I hadn't included enough visual interest. But the student's seemed interested and as soon as I got there the relaxed atmosphere of the class put me at ease. Thank you to
Mike Kerr
and
Charles Bell
for inviting me to speak and for the coffee and conversation that followed :)
Check out this
blog
which features some of the student's work as well as the work of ACAD Visual Communications alumni.
During my presentation I mentioned a Belgian illustrator that my husband and I stayed with during our trip to Brussels. His name is Pieter Fannes and he's a really talented illustrator and cartoonist with a unique visual voice. Here's a link to his flicker page:
http://www.flickr.com/photos/bos_aap_bos/
I love this sketch he did of my husband sleeping on their couch:
© Pieter Fannes
And this cartoon he sent us about Canadians (click on it to see it bigger):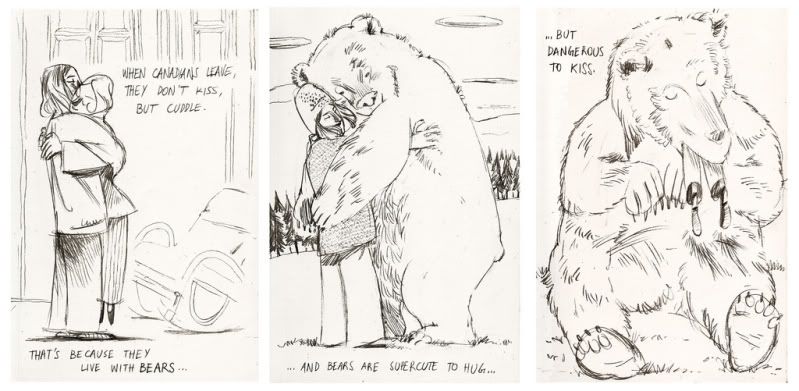 © Pieter Fannes
Tonight is the book launch and reception for the Work/Life 2 book. You can read the write up for the event on the Uppercase blog
here
.